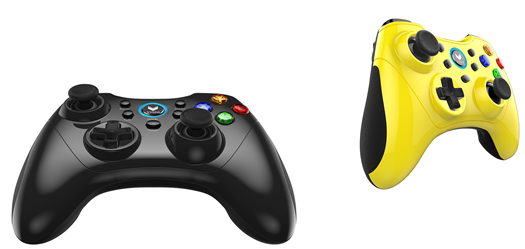 Mumbai, India, August 29, 2018: RAPOO – a leading manufacturer of wireless peripheral products, has introduced the VPRO V600S Wireless Gamepad in India.
The Rapoo VPRO V600S is an elegant wireless gamepad with a dual touch ergonomic design and a classic button layout.
The smooth surface and the matte texture of the V600S gives it an amazing appearance and provides an ultimate comforting design. With an eight – way directional pad and dual analog sticks, the V600S is easily manipulated with high accuracy. The V600S features slip resistant sides and contoured grips. It is easy to hold and gently improves control even in the most intense game sessions.
Mukesh Chaudhary, Country Head, India, SAARC & ME, Rapoo Technology said, "Gaming as an experience needs to be conveniently enjoyed across platforms. The VPRO V600S Wireless Gamepad is a perfect companion for casual gamers as well as enthusiast eSports players."
Key features of the Rapoo VPRO V600S Wireless Gamepad
High compatibility with common platforms
Gamers can use the XInput (X) mode to play a new generation of gamepad games on PC Windows. They can also use DirectInput (D) mode to play classic gamepad games on PC Windows. The Android (A) standard mode can be used to play Android-supported gamepad games.
User-friendly buttons for easily winning games
The X/D/A buttons allow gamers to easily switch among the three modes. The TUR button allows them to quickly activate semi-automatic and fully automatic rapid-fire functions, and disable them. The VIB button allows gamers to turn the vibration on or off.
Dual vibration motors for ultimate gaming experience
With the left motor of powerful vibration, The V600S gives gamers an exciting experience of feeling every crash and explosion in supported games. With the right motor of slight vibration, the V600S provides precise feedback of every friction and hit in supported games.
The Rapoo VPRO V600S Wireless Gamepad is now available in India via Rapoo authorized channel partners at an MRP of INR 3499/-. It will shortly be available online via Amazon.in. A wired version of the Gamepad, Rapoo VPRO V600 is also available at an MRP of INR 2999/-
Product Information link – http://www.rapoo.com/product/444
Link to download high res product images – http://bit.ly/2BTgd6f
 
###
About Rapoo
Founded in 2002, RAPOO is dedicated to offering excellent, cutting-edge wireless peripheral products to users around the world. "Wireless Your Life" is the simple philosophy that RAPOO has always adhered to.
RAPOO has constantly paid close attention to the continuous changes in user demands and to providing corresponding solutions. The RAPOO range of wireless mice, wireless keyboards, wireless headsets and wireless speakers is tailored to meet the needs of PC users. Bluetooth headsets and Bluetooth keyboards for intelligent terminals, like mobile phones and tablet PCs, are further featured in RAPOO's broad portfolio. Multimedia keyboards and Multi-Link (dandelion technology) product suites for the home theater round out the RAPOO range.
RAPOO possesses a top class R&D design team which has a deep understanding of the industrial aesthetic standards of today's world and can accurately grasp the end-user experiences in the market. In the IF Design Awards 2012 and 2013, four products of the RAPOO Blade Series won awards, which further strengthened and honored RAPOO's relentless pursuit of offering the best user experience.
RAPOO was listed on Shenzhen Stock Exchange (Stock Code: 002577) in China in April 2011. In order to provide more end-users around the world with excellent products and services, RAPOO launched its global market strategy in 2011 to enable global users to simultaneously share RAPOO's technological achievements.
RAPOO's mission is to "Wireless Your Life", meaning that RAPOO is constantly striving to bring more and more people around the world unique wireless enjoyment and in doing so create a brand-new wireless lifestyle.