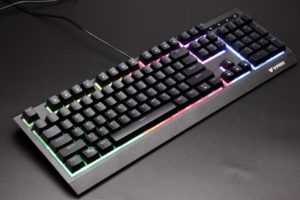 Mumbai, India, April 25, 2018: RAPOO – a leading manufacturer of wireless peripheral products, has unveiled the VPRO V52S Backlit Gaming Keyboard in India.
The V52S is the latest offering from the gaming stable of Rapoo, under its gaming brand, VPRO. The V52S Backlit Gaming Keyboard comes with a host of features. It is available with a colorful backlit system for a better visual experience for gamers. Media control is possible with the help of function keys that allow users to access a variety of functions like media player, homepage, volume adjustment etc.
A tactile feel similar to blue switches is one of the key features of the Rapoo VPRO V52S, which helps gamers experience an excellent typing experience. Also the Anti-ghosting design allows eSports players to simultaneously press 25 keys on the game zone, ensuring the rapid and exact registration and execution of every command of gamers.
The LED backlight brightness can be adjusted in the V52S Backlit Gaming Keyboard with the adjustable backlight feature, making weapon fighting cooler among gamers. Also, the spill resistant keyboard design, takes away the worry about the keyboard malfunctioning after accidental spills.
Commenting on the product, Mukesh Chaudhary, Country Head, India, SAARC & ME, Rapoo Technology said, "The products in our gaming brand VPRO, aim to empower gamers and eSports players without burning holes in their pockets. Like the V52S Backlit Gaming Keyboard, with a variety of features, we will continue to introduce newer and more exciting products in the days to come."
The Rapoo VPRO V52S Backlit Gaming Keyboard is now available in India online as well as via authorized Rapoo partners.
Product Information link – http://www.rapoo.com/product/400
Link to download high res images – http://bit.ly/2Hn55wO

####
About RAPOO
Founded in 2002, RAPOO is dedicated to offering excellent, cutting-edge wireless peripheral products to users around the world. "Wireless Your Life" is the simple philosophy that RAPOO has always adhered to.
RAPOO has constantly paid close attention to the continuous changes in user demands and to providing corresponding solutions. The RAPOO range of wireless mice, wireless keyboards, wireless headsets and wireless speakers is tailored to meet the needs of PC users. Bluetooth headsets and Bluetooth keyboards for intelligent terminals, like mobile phones and tablet PCs, are further featured in RAPOO's broad portfolio. Multimedia keyboards and Multi-Link (dandelion technology) product suites for the home theater round out the RAPOO range.
RAPOO possesses a top class R&D design team which has a deep understanding of the industrial aesthetic standards of today's world and can accurately grasp the end-user experiences in the market. In the IF Design Awards 2012 and 2013, four products of the RAPOO Blade Series won awards, which further strengthened and honored RAPOO's relentless pursuit of offering the best user experience.
RAPOO was listed on Shenzhen Stock Exchange (Stock Code: 002577) in China in April 2011. In order to provide more end-users around the world with excellent products and services, RAPOO launched its global market strategy in 2011 to enable global users to simultaneously share RAPOO's technological achievements.
RAPOO's mission is to "Wireless Your Life", meaning that RAPOO is constantly striving to bring more and more people around the world unique wireless enjoyment and in doing so create a brand-new wireless lifestyle.